NIAGARA CHAPTER - NATIVE WOMEN INC.
The Niagara Chapter - Native Women Inc. is a non-profit charitable organization that became officially incorporated in 1983. NCNW encourages Native Women to become active participants in society while remembering and honouring our unique cultural and spiritual beliefs.

Click Here To Learn More about NCNW

New members always welcome Click Here for the membership form.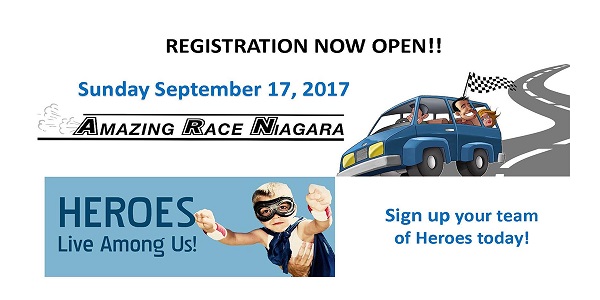 WE ARE SEEKING TEAMS OF FOUR TO ENJOY THIS FUN EVENT AND HELP BOTH CHARITIES RAISE FUNDS!!

You can be a hero for just one day! Imagine the courage it takes for a child to disclose abuse to adult authorities, when 80% of alleged perpetrators are known to them. Studies found that sexual abusers come from a wide circle of people (not only within the family) but also outside the family, such as friends, neighbors and peers (Kingsley and Mark 2000; LaPrairie 1995). Our agencies have joined together to increase child abuse prevention, awareness and response for Niagara's children, youth, & their families.

The Niagara Chapter - Native Women Inc. (ncnw.net) is an autonomous local organization of the Ontario Native Women's Association, which is affiliated with the Native Women's Association of Canada. Current local initiatives include a strong interface with local education, justice, health and child welfare issues from infancy to beyond middle age. Our organization is built on the dedication of our members and volunteers. The chapter receives no core or ongoing funding. We are a fully registered charity and not for profit that incorporated in 1983 and %100 or your donation stays within the Niagara Region.

The Kristen French Child Advocacy Centre (kristenfrenchcacn.org) is a safe place to help, heal and end child abuse for Niagara's children and youth who have been physically abused, sexually abused, become the targets of internet luring, or were the unwilling witness of violence. Children speak about their abuse experience to specifically trained teams from Niagara Regional Police Service and Family & Children's Services Niagara. Counselling is provided at no cost and without a wait list through Family Counselling Centre Niagara. Opened in 2008, Kristen French CACN is a registered charity that serves Niagara's 12 municipalities, helping children and families cope with the life altering impacts of child abuse.

Did you know that 1 in 4 children will experience sexually based child abuse before the age of 18 and studies show that on average 25% to 50% of Aboriginal women were victims of sexual abuse as children compared to a 20% to 25% average rate within the non-Aboriginal population (Collin-Vézina et al 2009).

Form a TEAM or Sponsor this event & be a hero!

Support Kristen French CACN & NCNW

Visit: amazingraceniagara.ca to learn more

You can help with our work. We are not a "Core funded" organization and do all of our own fund raising.
Canadahelps.org is a donation service that retains 3% of all donations for administrative costs.
If you wish to donate directly to us, 100% of your donation goes directly into our work and stays in niagara!
We are a fully registered charity with Revenue Canada.



"We Appreciate all ONLINE DONATIONS" Click HERE





"Kiigiigidomi" ("We Are Talking") Side by Side program
Mothers and Children's Group partnering with Family Counselling
Centre of Niagara Native Facilitators. Offered on seasonal basis.
Specific criteria for enrollment. Call for more info: 905-871-8770
TO MAKE ONLINE DONATIONS Click HERE


We greatly appreciate the support of our volunteers, members, agency partners, funders, sponsors and business partners.